Brought to you by


We're thrilled that you'll be able to join us for our upcoming Fireside Chat with the real Kearny Bank ChangeMakers. Please RSVP below to secure your spot. Someone from our team may follow up with you directly.  Feel free to bring along a guest.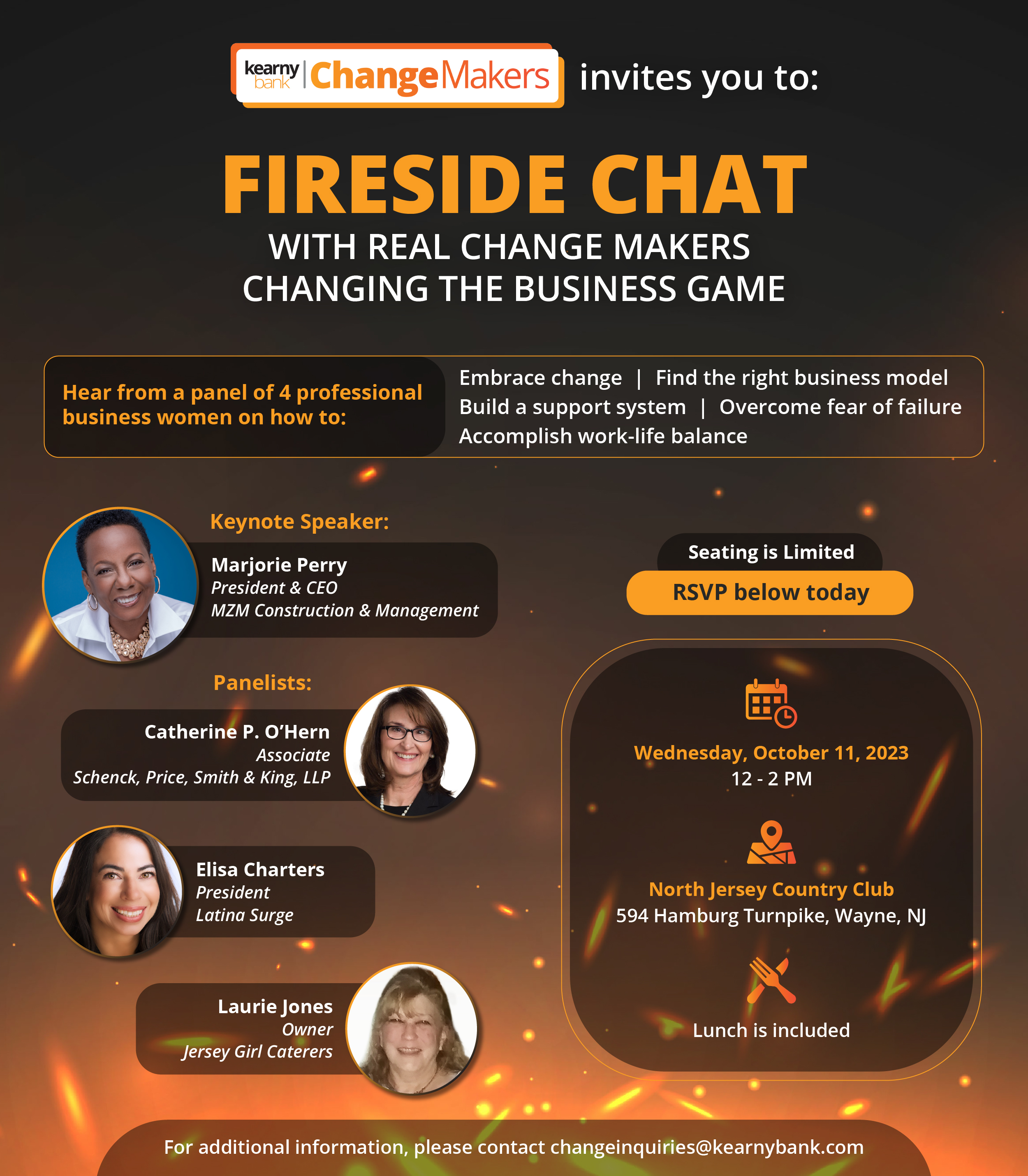 About Our Speakers
Marjorie Perry, a lifelong resident of New Jersey, is the President and CEO of MZM Construction & Management Company, Inc. As importantly, she is widely recognized as an innovator, public speaker, writer and role model for women and minorities in business. Using her extraordinary path to success and 26 years of experience as fodder for inspiration, Perry finds her mission to be one who motivates nascent entrepreneurs to develop and pursue their dreams by sharing the lessons she has learned from her own success, which often meant taking life's lemons and making lemonade. RSVP here >>
Catherine P. O'Hern is a litigation associate in Schenck Price's Professional Liability Practice Group who has substantial experience in medical malpractice defense, civil litigation, insurance defense, third-party liability, and appellate matters. After choosing to leave a career in computer software to raise her four daughters full time, Catherine O'Hern decided to fulfill her dream of becoming a lawyer. O'Hern took the LSATs, graduated law school, studied for, took, and passed the New Jersey and New York State Bar exams; and did it all with one of her daughters. O'Hern is grateful for her years as a full-time mom and for the opportunity to take a non-traditional path to becoming an attorney, which she considers "the best career ever." RSVP here >>
Elisa Charters is a wife, mom of two young adult children, a caretaker of elders and cherishes her three dogs. She is also a seasoned executive strategist with 25+ years of public-sector finance and transactional experience. She specializes in the negotiations of major economic development, infrastructure, and innovation initiatives to advance public-private goals.
Elisa is passionate about social responsibility. A common core value across her projects is helping humanity with purpose. Whether it be to support single moms/parents/caretakers with scheduling, eradicating loneliness, and bullying, addressing food insecurity, or ensuring collective collaboration to mitigate health and safety risks to medical and emergency response personnel, she believes what is intentional is possible. RSVP here >>
Lorrie Jones, is owner of Jersey Girl Caterers, located in Fairfield, New Jersey. Jersey Girl Caterers has been around for over 6 years and survived the Covid 19 pandemic when the food service industry took a big hit. Laurie is proud to be listed as a women owned and operated business. RSVP here >>
This event and its attendees may be photographed or video recorded for Kearny Bank's commercial use. By attending this event you provide your consent for Kearny Bank to use your name and photograph or video recording for publicity or promotional purposes without compensation. You understand your name and photograph or video recording can be distributed to any medium now known or later developed, including the Internet. All photographs and video recordings are and will remain the property of Kearny Bank.