$50K for 55 Kip Center
November 18, 2019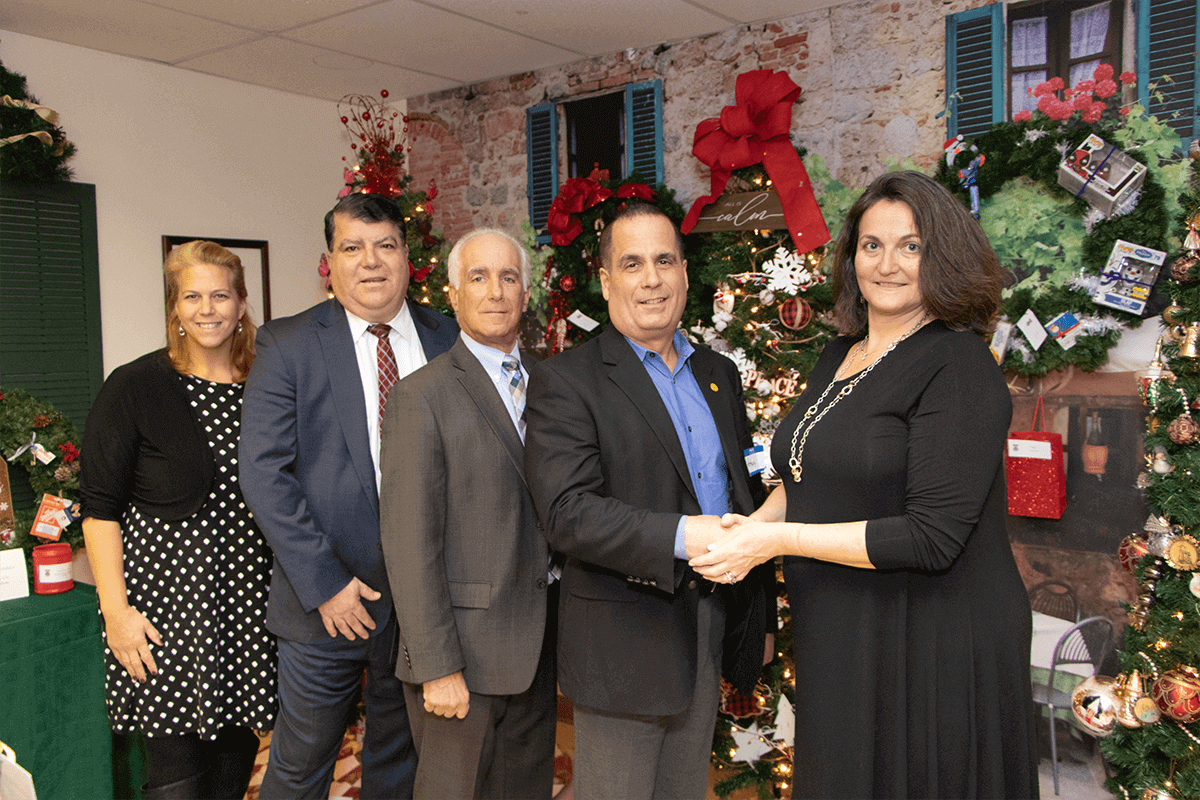 Pictured during a recent event marking Kearny Bank's $50,000 donation to 55 Kip Center in Rutherford are (from left) Dr. Stephanie McGowan, Council President, Borough of Rutherford; Robert Grasso, AVP/Retail Relationship Manager at Kearny Bank's Rutherford Branch; Robert Sferrazza, VP/Business Relationship Officer, Kearny Bank; Anthony Bilotta, Kearny Bank's EVP/Chief Banking Officer; and 55 Kip Center's Executive Director Dana Monaghan.
$50K for 55 Kip Center – Rutherford's 55 Kip Center – a vital resource for older adults and their families –
recently received a $50,000 donation from Kearny Bank. A festive event was held by 55 Kip Center as an expression of appreciation for Kearny Bank's ongoing support for the center.
The 2019 contribution will be utilized by 55 Kip Center related to its broad range of wellness and fitness programs. These include workshops and lectures specifically designed to help seniors lead and maintain healthy lifestyles.
"For older residents of Rutherford and surrounding communities, 55 Kip Center is an amazing resource," says Dana Monaghan, Executive Director of 55 Kip Center. "From health and fitness to education and friendship, we're deeply committed to our members' needs."
During the donation event, Kearny Bank participated in 55 Kip Center's holiday fundraiser by purchasing a seasonal evergreen. This tree will be donated by the bank to the Rutherford Food Pantry.
"At Kearny Bank, we appreciate being able to contribute to an organization that's cherished by so many people," says Eric Kesselman, Kearny Bank 1st Vice President / Director of Marketing. "It's not an overstatement to say that 55 Kip Center truly makes lives better."
The donation to 55 Kip Center was provided through the Kearny Bank Foundation, which – in addition to quality of life grants – also contributes funds related to education, housing, and the arts/culture/stewardship.
About Kearny Bank
Seamlessly melding the finest traditions of community banking with state-of-the-industry capabilities, Kearny Bank provides a range of progressive offerings to its personal and business banking clients. Established in 1884, and operating now from administrative headquarters in Fairfield, NJ, Kearny Bank is steadily expanding its footprint throughout New Jersey, as well as New York City's Brooklyn and Staten Island boroughs. Additional details are available online at kearnybank.com; an overview video can be viewed at bit.ly/2IUWeWJ.
Back to Search Results