Passaic High School student-athlete wins 2022 Kearny Bank Strength Award, presented in conjunction with NJSIAA
July 7, 2022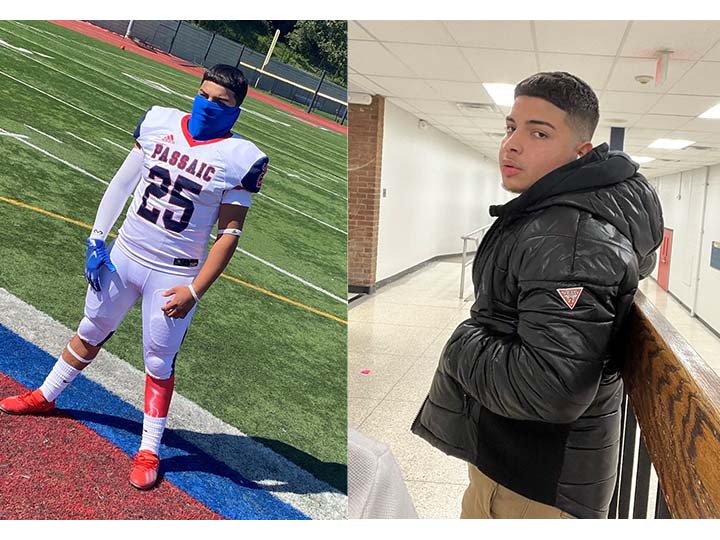 It could be an inspirational film, sprung from the mind of some Hollywood screenwriter.
Instead, it's entirely real and true … and it earned Passaic High School senior Santos Alexis Nunez Maldonado recognition as the 2022 recipient of Kearny Bank's annual Strength Award. First presented in 2019, the honor – developed in conjunction with the NJSIAA (New Jersey State Interscholastic Athletic Association) – includes a $2,500 academic scholarship for one New Jersey scholastic athlete who has overcome a significant injury.
"Santos had to deal with not only a physical challenge, but also PTSD," explains Passaic High School Athletic Director Kimberly Kenny, who nominated Nunez for the award. "He's an incredible young man who exemplifies what it is to overcome a physical set-back. Now, he's using these unfortunate circumstances to fuel his desire to make a difference in the world."
On November 5, 2018, Santos – then a freshman at Passaic High School – was crossing a street on his way to a corner store. Hearing gunfire, he experienced a moment of confusion, then realized he'd been shot. Two bullets struck him, one in the arm and one in his lower abdomen.
"My first thought was that I needed to run inside my house and call the police," Santos recalls. "So, I got myself home as best I could."
Covered in blood, he was rushed to the hospital, where he underwent five hours of emergency surgery to repair his large and small intestines and also remove the bullets from his body. Afterward, he spent a week in the hospital. When he finally was discharged, he visited his doctor regularly for five months. And, it took him three months to get comfortable venturing outside his home.
"Recovery was a lengthy process, and I missed the life I'd had before the accident," says Santos. "For a while, I almost never left my bed. And when I finally went back to school, I couldn't even use the stairs."
Santos' return to school came in 2019, as his sophomore year began. By his junior year, in 2020, he was well enough to begin playing sports again. He took up golf … and by the conclusion of the season earned his team's MVP award. And that success convinced him to attempt a return to the sport he hadn't played since his freshman year – football.
"I had to convince my mother to let me play," Santos remembers. "But with the help of my brother and old teammates, she finally agreed."
On July 5, 2021 – exactly 32 months to the day after being shot – he signed up for and began participating in football camp. Then came preseason football in August, followed by competing on the Passaic Indians varsity team during his senior year.
"Strangely, the shooting prepared me to handle the challenges that came my way during the season," says Santos. "It gave me the inspiration to show others how not to give up. Life is hard, and you don't know what's going to happen. But you don't quit or take the easy way out. You have to keep fighting."
This autumn, Santos is scheduled to continue his education at Bergen County Community College. He'll be the first member of his family to pursue a college degree.
About Kearny Bank
Combining the finest traditions of community banking with the industry's latest, most effective financial products and services, Kearny Bank provides business and personal clients with the tools for success. Established back in 1884, and now operating from corporate offices in Fairfield, NJ, Kearny Bank's footprint covers most of New Jersey, along with Brooklyn and Staten Island. Additional information is available at kearnybank.com or by visiting Kearny Bank's social media channels: Facebook [facebook.com], Instagram [instagram.com], Twitter [twitter.com], LinkedIn [linkedin.com] and YouTube [youtube.com].
Back to Search Results