Financial literacy is essential, and sharing it is focus of Village Program from African America Chamber of Commerce of New Jersey
November 3, 2022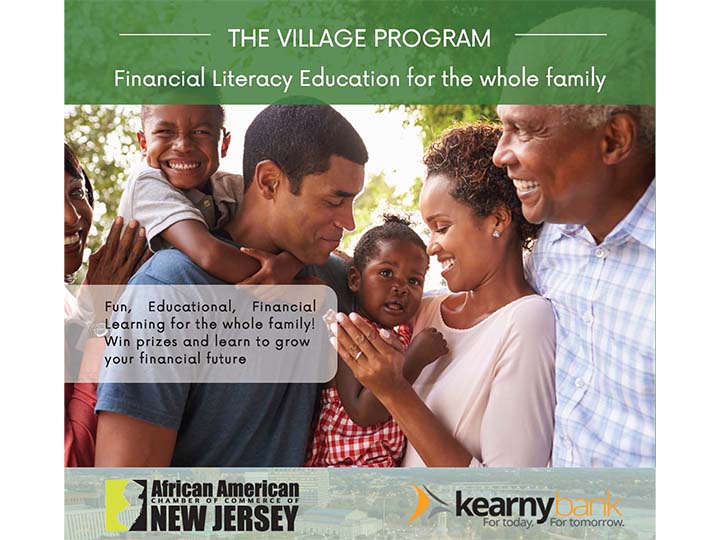 It's essential information.
From taxes, to calculating earnings, to the distinctions between debit and credit cards, to financing a college education, most individuals and families can benefit from expanding their financial knowledge. That's the concept behind the Village Program, from the African American Chamber of Commerce of New Jersey (AACCNJ).
"When it comes to financial literacy, there's a definite disconnect between the information that's often available at school versus what's available at home," explains John E. Harmon, Sr., Founder, President and CEO at the AACCNJ. "We envisioned assisting entire families in learning more about their finances, so they'd be better positioned to thrive."
So, in the fall of 2021, the AACCNJ began the Village Program as a pilot project. Entirely virtual, it offered weekly, age-appropriate instruction to all members of 10 different families, age five and older. The program ran for eight weeks, with all participants receiving one hour of instruction. Prior to each session, the AACCNJ had healthy meals delivered to the homes of all 10 families.
Of course, an initiative like the Village Program requires a degree of funding, and that's where Fairfield, NJ-based Kearny Bank stepped in. In 2021, the bank donated $30,000 to the effort … and it made a $40,000 contribution to help the program continue in 2022.
"Supporting the communities where we have the privilege of conducting business is a long-standing Kearny Bank commitment, and as a bank we certainly embrace the value of financial literacy," explains Kearny Bank President and CEO Craig Montanaro. "We're proud to support this AACCNJ initiative, which we believe can have tremendous positive impact on many individuals and families."
For 2022, the Village Program -- which ran from September 14 through November 2 – was again virtual and eight weeks in length, and served 10 families. Five of these were from the Trenton area, as nominated by the Trenton Housing Authority, an AACCNJ member. The five other families were from in and around Orange, having been nominated by AACCNJ member Athletic Arts Academy, based in Orange.
"We want everyone in the family, adults and students alike, to be able to talk about what they've learned," says Mary Griffin, Vice President of Member Relations at the AACCNJ. "This is more likely to be the case if we ensure that each week, all participants learn about similar things."
The Village Program also benefits from direct support by Junior Achievement – which focuses on providing instruction to children from five to 16 – and Manhattan-based Fedcap, which helps with instruction of older students and adults.
This year, the Village Program kicked off with a virtual meet-and-greet, followed by an assessment of participants. This enabled Fedcap to conduct tailor-made, customized coaching sessions for all those who needed additional support.
"Financial literacy gaps are a societal problem, and you can't solve large problems all at once," observes Carmen Gates, Director of Training and Community Initiatives at the AACCNJ. "What you can do is begin making small dents in the problem. That's our focus. We're hoping the families who are directly involved will share what they learn with others, and the knowledge will spread organically."
Kearny Bank's donation provides resources for development of specific, educational content and to secure presenters for the length of the program.
"Throughout New Jersey, there are quite a few underserved families who simply haven't had adequate access to financial awareness," says Jacqueline Gibbs, Kearny Bank First Vice President / Fair Lending Officer. "The Village Program seeks to put these families on more equal footing. It's a worthwhile effort with tremendous potential and we appreciate an opportunity to play a role."
About the African American Chamber of Commerce of New Jersey
The African American Chamber of Commerce of New Jersey (AACCNJ) performs an essential role in the economic viability of New Jersey. While providing a platform for New Jersey's African American business leaders to speak with a collective voice, the AACCNJ advocates and promotes economic diversity fostering a climate of business growth through major initiatives centering on education and public policy. The Chamber serves as a proactive advocacy group with a 501(c) 3 tax exemption, which is shared by the National Black Chamber of Commerce. AACCNJ website - www.aaccnj.com [aaccnj.com]
For more information on The Village Program please contact Carmen Gates at [email protected].
About Kearny Bank
Combining the finest traditions of community banking with the industry's latest, most effective financial products and services, Kearny Bank provides business and personal clients with the tools for success. Established back in 1884, and now operating from corporate offices in Fairfield, NJ, Kearny Bank's footprint covers most of New Jersey, along with Brooklyn and Staten Island. Additional information is available at kearnybank.com or by visiting Kearny Bank's social media channels: Facebook [facebook.com], Instagram [instagram.com], Twitter [twitter.com], LinkedIn [linkedin.com] and YouTube [youtube.com].
Back to Search Results