Building a building
October 25, 2022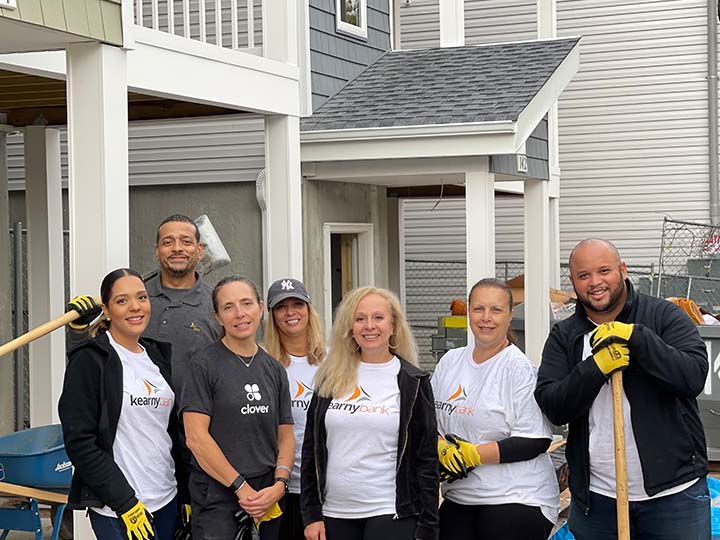 Paterson Habitat for Humanity is constructing a residence at 150 Governor Street and Kearny Bank employees from branches across northern New Jersey, as well as from the bank's corporate offices, recently volunteered a day to help. Participants were Edna Rios, Vice President / Regional Sales and Development Officer, and Jose Borbon, Assistant Vice President (AVP) / Small Business Association Portfolio Servicing Manager, both of whom are based at the company's corporate offices; Tatiana Lopez, AVP / Retail Relationship Manager (RRM) at the Clifton-Montclair Heights location; Shawn Morton, AVP / RRM at the West Orange branch; Patricia Esposito-Hulbert, AVP / RRM at the Wayne branch; Sue Catania, the Pequannock location's AVP / RRM; and Fiserv Business Consultant Cassandra Lipsey.  
"Each of us who volunteered is busy with our various responsibilities, but there's great value in spending a day helping other people," says Rios. "I think I speak for all of my colleagues when I say we love the area that Kearny Bank serves and feel privileged for opportunities to make it an even better place."
About Kearny Bank
Combining the finest traditions of community banking with the industry's latest, most effective financial products and services, Kearny Bank provides business and personal clients with the tools for success. Established back in 1884, and now operating from corporate offices in Fairfield, NJ, Kearny Bank's footprint covers most of New Jersey, along with Brooklyn and Staten Island. Additional information is available at kearnybank.com or by visiting Kearny Bank's social media channels: Facebook [facebook.com], Instagram [instagram.com], Twitter [twitter.com], LinkedIn [linkedin.com] and YouTube [youtube.com].
Back to Search Results