Marking first anniversary with advertising agency-of-record, Kearny Bank captures multiple 2022 New Jersey Ad Club Awards
October 4, 2022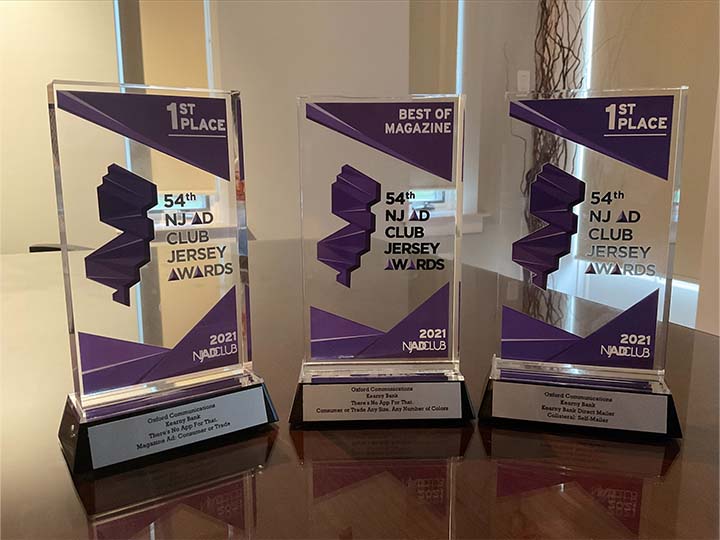 It was the ideal way to celebrate.
Marking the first anniversary of its agency-of-record relationships with Lambertville-based Oxford Communications, Kearny Bank recently captured a pair of first place awards at the 54th annual New Jersey Ad Club Jersey Awards gala, held in Cedar Grove. Specifically, Kearny Bank pieces created by Oxford won first place in the "Direct Mail" and "Magazine Ad" categories. Both items feature Kearny Bank's "There's no app for that" tagline.
In addition, Kearny Bank's magazine ad also received the "Best of Magazine" award.
"We're delighted by this recognition from the New Jersey Ad Club, and the timing makes it that much more meaningful," says Kearny Bank 2nd Vice President/Marketing Manager Janet DeSiano. "It takes commitment and teamwork to establish a close, effective partnership with an advertising agency. I believe these three Jersey Awards demonstrate that after working together for one year, Kearny Bank and Oxford Communications are truly a successful team. That said, I'm also confident that even more captivating visions of our brand are just over the horizon."
Kearny Bank and Oxford Communications formally began their advertising relationship in May 2021.
"The Oxford team was honored to help Kearny Bank tell its brand story," says Chuck Whitmore, Oxford's Executive Vice President/Creative Director. "The campaign resonates with the market because it's grounded in emotion and authenticity."
About Kearny Bank
Combining the finest traditions of community banking with the industry's latest, most effective financial products and services, Kearny Bank provides business and personal clients with the tools for success. Established back in 1884, and now operating from corporate offices in Fairfield, NJ, Kearny Bank's footprint covers most of New Jersey, along with Brooklyn and Staten Island. Additional information is available at kearnybank.com or by visiting Kearny Bank's social media channels: Facebook [facebook.com], Instagram [instagram.com], Twitter [twitter.com], LinkedIn [linkedin.com] and YouTube [youtube.com].
Back to Search Results