Get the Mobile App that lets you control debit card usage and spending on the go.
Integrated conveniently with our Kearny Bank Mobile Banking App, the Kearny Bank SmartCard companion app allows you to:
Turn your debit card on and off
Establish transaction controls for dollar amount limits, merchant categories and geographic locations
Receive alerts when your debit card is used, approved or exceeds the transaction controls set by you
Stay informed of potential fraud with alerts on attempted, declined transactions
Get real-time balances from your accounts
Download the app for iPhone or Android from the app store today.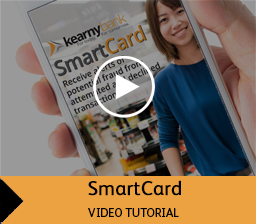 Control Spending
If you're trying to establish or stick to a budget, SmartCard can help. Set spending limits for general use or specify thresholds by merchant types, such as gas, groceries or retail stores. You can also establish these controls by location. The flexible app lets you change these parameters anytime with ease via your mobile device. Going on vacation? Holiday shopping? Simply update your transaction controls to fit your spending needs.
Fraud Protection
A lost or stolen card is just one area of concern in today's world where identity theft, skimming and other attacks are an unfortunate reality. Turning your debit card off when you're not using it helps safeguard against fraud. When your card is "off," no withdrawals or purchases will be approved. Transaction controls that allow your debit card to work only in specific locations or geographic areas add another layer of protection. And real-time alerts keep you informed when your card is used or declined.
Review Balances and Transactions
Monitor your finances from anywhere. Use the SmartCard app to check your account balances.
If you have questions or concerns about SmartCard, refer to our SmartCard FAQ section below or contact us at 800-273-3406.
SmartCard FAQs
Does SmartCard work on Android phones and iPhones?
Yes. SmartCard works with the most recent mobile operating software as well as two past generations of Android and iPhone devices.
When cardholders receive a reissued or replacement card, will they have to update their cards within the application?
Can multiple cards be linked to one registered SmartCard account?
You can download the card on multiple devices but are requested to indicate which device is "primary." What is the purpose of assigning a primary device? Can you make changes to the settings from the non-primary devices?
A region has been set on the map. Does this mean the card can only be used exactly in this region?
Are the alerts sent as email or "push" notifications to the device?
Can cardholders block all international transactions?
How are controls established for various merchant types?
A threshold limit of $50 has been set but the user can't fill gas in some stations. Why?
What type of transactions display in SmartCard?
Why are Balance Inquiry transactions generated when cardholders log on to the SmartCard app?