Please check back here often for important updates related to our new Digital Banking experience.
9/25/23 Update:
On Monday morning, October 9, 2023, digital banking will be better at Kearny Bank. The new digital banking platform will provide you with more services and the convenience of banking from your desktop, laptop, tablet, or mobile phone.
To help make the conversion from our current system to the new system as smooth as possible, below is a timeline of adjustments to our normal service as we prepare for this new experience.
10/2 - no new enrollments in online banking will be available.
10/6 at 4:00 PM – You will be able to view balances and transaction history only; all other online banking activity including Bill Pay, will be temporarily unavailable. All Bill Pay payments scheduled through 10/10 will be processed.
10/9 at 9:00 AM – Download the new Kearny Bank mobile banking app via your app provider. Consumer clients who have enabled automatic updates on their device will get the updated version of the app released automatically. Business Clients must uninstall the existing app and install the new Kearny Bank app. We encourage our business clients to maintain the CardValet app.
Although online banking and our mobile app will only allow you to view your accounts (i.e. no new transactions) between 4:00 PM on October 6 through Monday morning, October 9, you can have full access to your accounts by using the following methods:
Telephone Banking (our 24-hour voice response system) to check balances or perform transfers between your Kearny Bank accounts. Call 866-813-2754.
Branch ATMs will be available for deposits, cash withdrawals and balance inquiries.
Our branches will be open during regular Saturday business hours 9:00 AM – 12:00 PM.
Our Client Support Center will also be open to assist you on Monday, October 9 from 9:00 AM - 3:00 PM. You can call them at 800-273-3406, option 4.
We are thrilled to deliver this new feature-rich and intuitive digital banking solution. If you have any questions, contact us at 800-273-3406, option 4.
9/6/23 Update:
We are upgrading our digital banking experience fall 2023, and banking anytime, anywhere, from any device will be easier than ever.
All that's required of you is to confirm that your current contact information is accurate, and you'll be ready to jump right into an easier, feature-rich, more intuitive digital banking experience!
Sign in to your online banking account before September 25, 2023, to review the contact information we have for you. If everything is correct, no action is needed on your part.
You can update your email address by accessing your profile in

online banking.

To update your address and phone number please visit your local Kearny Bank

 

branch

 to complete the change.

Business clients must make changes by contacting your local branch or 800-273-3406

 option 4, or by emailing

[email protected]

.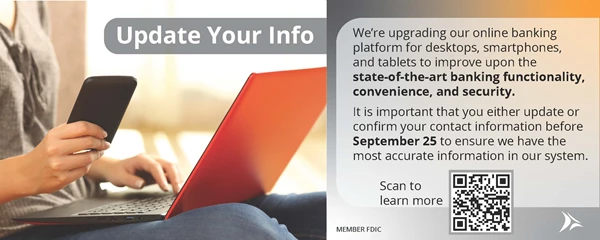 8/15/23 Update: Start getting excited now! With our feature-rich and intuitive online banking platform for desktop, smartphone and tablet - you'll be able to bank, anywhere, anytime like never before.