Journey of Women Entrepreneurs: Yes, She Can! Yes, She Will!
June 26, 2023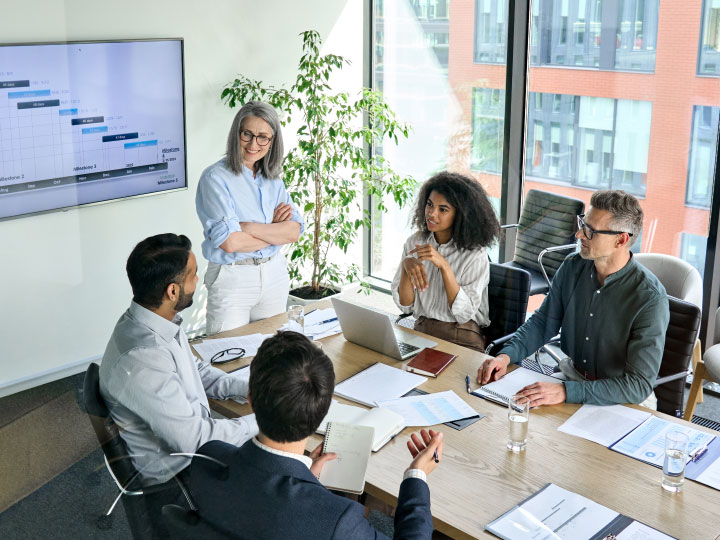 Written by Frances Montagnino | Vice President, Education Relationship Officer
Women are a tremendously important part of our economy as well as a source of inspiration.  Sometimes we just need a reminder that we can, and we will.
The Growth of Women-owned Business
Businesses owned and operated by women are growing at an exponential rate. Many of these businesses focus on specific niche products and services which make the businesses indispensable. Just as importantly, women in the workforce also play an integral role in leading the household. After a day at work these amazing women still find the strength and focus to nurture their families, participate in their children's daily activities, and ensure that the household is being maintained not only socially but financially. With an increase of single women in the workforce these challenges are accentuated even more and have become a driving force for women to focus on their future endeavors by becoming business owners.
Initiation of Starting a Business
The idea of starting a business typically begins from a void that one encounters daily. Soon, one begins to think in detail about how best to address the need, which may come in the areas of health care, beauty needs, technology, parenting, financial literacy, or other innovative ideas. Women have a unique perspective which allows greater insight into what needs to be provided.
The transition from an idea to implementation begins with a focused approach, determination and a clear articulation of the community benefit that your business will provide. A concise business plan is vital in the initial stages in order to provide a clear path to the goals and strategies for success. An effective business plan should include, at a minimum, a few key components such as the market that you are targeting, the competitors, a SWOT analysis and the products and services offered.
Beginning Stages of Women-owned Start-up Business
Throughout my career in the financial industry, I have had the pleasure of working with numerous Women-owned businesses as well as women who were interested in establishing a small business. They had the idea but required support on how to begin the process. These entrepreneurs had the desire and initiative to move forward and begin their journey. To help them get started, I mentored these women on the necessities and potential pitfalls that they should be aware of. 
Every startup business encounters highs and lows; it is important to analyze them to ensure the viability of the business. Maintaining relevance to your industry is an essential component for future success. The primary catalyst that a startup business must obtain is sufficient funding to provide the time to build a foundation and to allow the business to mature. I continue to mentor women that I work with to not become deterred when obstacles arise; instead, I encourage them to persevere as these hardships are common in the initial stages of the business's growth. The power to remain true to your vision, especially during these challenges, will bolster your purpose to follow through and make your business a triumph.
My interactions with Women-owned businesses throughout my career has provided me insight on what is essential to realizing your goals. The strength to stay resilient through trying times and successes will enable women to stay true to their vision and see the light at the end of the tunnel. Through Kearny Bank's ChangeMakers women in business program, our mission is to empower women in business to grow and succeed. It is an honor and a privilege to continue supporting Women-owned businesses and entrepreneurs in achieving their goals through this type of mentorship.
A Beacon of Inspiration
I leave you with one of many role models who have inspired me in my personal and professional leadership.  This woman was challenged with many obstacles throughout her journey. She encountered resistance in gaining respect and acceptance in her chosen career due to the lack of representation among women. The unwavering determination to follow her vision despite the difficulties she encountered and willingness to make herself known led to an unprecedented career and personal fulfillment that she could have never imagined.  Her career began from being rejected as a Supreme Court Clerk due to her gender which fueled her to remain committed to gender equality and women's rights. Her work with the American Civil Liberties Union (ACLU) is renown. Her career encompasses her work as a Lawyer, Professor, wife and mother which ultimately led to her appointment to US Supreme Court in 1993. She had a long and arduous road in garnering respect and recognition and ultimately fame as a public figure. Ruth Bader Ginsburg was given the moniker "The Notorious RBG" because of her willingness to be outspoken on issues that she found important. Ginsburg's determination and perseverance in the face of rejection throughout her journey while remaining true to her vision and goals serves as a beacon of hope for all women who are trying to establish themselves as an entrepreneur, leader or Women-owned business. 
About Frances:
Frances Montagnino is a Vice President, Education Relationship Officer at Kearny Bank. In this role, she's responsible for establishing and fostering commercial client relationships with partners in the private education space.
Montagnino has spent more than two decades in the financial services sector, beginning her career as a financial broker and then expanded into retail banking. She also has experience in commercial lending. Frances has the background to provide business clients with expert counsel that can lead to enhanced financial success.
A Cum Laude graduate of Kaplan University, with a Bachelor of Science degree in Business Administration, Montagnino has taken a wide range of professional training and leadership courses, including recently completing Harvard Business School "Leading in the Digital Era" Executive Education course.
Along with membership in the Fort Lee Chamber of Commerce and New Jersey's Statewide Hispanic Chamber of Commerce, she also provides volunteer support to a range of charitable and educational organizations.
Back to Search Results