Payroll, HR services now available through Kearny Bank
January 18, 2023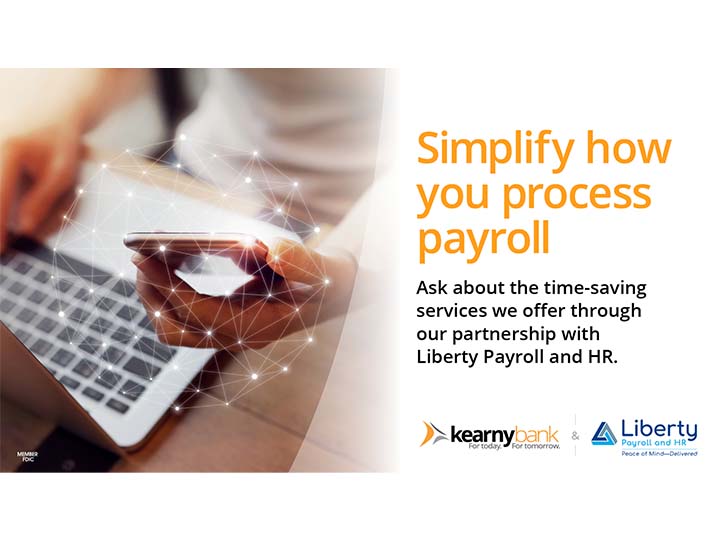 A partnership between two New Jersey companies now makes payroll and human resources services more accessible to area businesses.
Through an agreement with Newark-based Liberty Payroll and HR, Kearny Bank is offering its business clients direct access to an expanded variety of essential services, with emphasis on comprehensive payroll and human resources solutions. To arrange for utilizing Liberty's offerings, clients may either complete an online form or reach out to their banking team.
"We're committed to full-service business banking, and this partnership enables us to provide clients with an even greater variety of services," explains Veronica Ross, Kearny Bank Senior Vice President / Treasury Management Leader. "Liberty has a remarkable, 95% client retention rate, and utilizes the very latest technology. We're really excited about introducing our clients to them."
Established in 2005, Liberty also offers time and attendance, as well as employment policy services. The majority of its client companies have fewer than 500 employees.
"We established Liberty based on confidence that we could offer better professional services than the competition," says Josh Rothenberg, Liberty's Vice President of Sales and Marketing. "We're focused on excellence, and I believe Kearny Bank's clients will quickly perceive that working with us provides business advantages."
Kearny Bank business clients who engage in a payroll services or human resources relationship with Liberty will always have the option of speaking directly to an account representative. An intuitive, state-of-the-industry online interface is available as well.
"We're delighted by Liberty's exceptional competence and outstanding client service – and its being located in Newark is icing on the cake," Ross adds. "Kearny Bank has conducted business in northern New Jersey since the 19th century, and we embrace vendor relationships with local companies. Many of our clients are from this immediate area, so a Newark company provides a degree of mutual familiarity that makes everyone comfortable."
In addition to payroll and HR, Kearny Bank offers a wide range of other treasury management products.
About Kearny Bank
Combining the finest traditions of community banking with the industry's latest, most effective financial products and services, Kearny Bank provides business and personal clients with the tools for success. Established back in 1884, and now operating from corporate offices in Fairfield, NJ, Kearny Bank's footprint covers most of New Jersey, along with Brooklyn and Staten Island. Additional information is available at kearnybank.com or by visiting Kearny Bank's social media channels: Facebook [facebook.com], Instagram [instagram.com], Twitter [twitter.com], LinkedIn [linkedin.com] and YouTube [youtube.com].
Back to Search Results